---
Provide easy access to toiletries and cosmetics
Keep your bathroom organized to free up more space. Waterproof Bathroom Storage Rack is a stylish way to keep toilet paper handy and dry in the bathroom. Secure and prevent your toiletries, skincare and cosmetics from getting damp while getting 360-degree access.  Sizing 16.8 cm x 13.8 cm, store makeup, hair accessories, and other small items to keep them within reach. Perfect for house, apartment, condo, college dorm rooms, RVs, and campers.
HIGHLIGHT FEATURES
No more damp tissue and paper towels.

Waterproof Bathroom Storage Rack comes with a sliding door design that lets you store makeup, hair accessories, and other small items inside. Eliminate the worry of your tissue paper getting wet. Sizing 16.8 cm x 13.8 cm, it also gives you easy access to facial tissue or roll paper. 
360-degree Protection To Your Belongings.

The material offers enclosed 360-degree protection to your valuables. No more wet cosmetics or toiletries! No more worrying about a splashing water on your favorite makeup.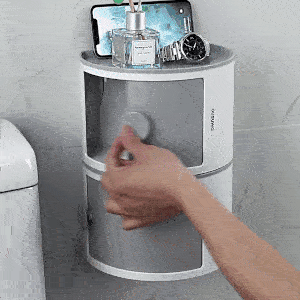 No-hassle Installation.

No punching required, easy to install, uses self-adhesive stickers to maintain the box on the wall, strong adsorption, serrated edge, and easy to tear toilet paper down. Most standard-sized multifold paper towels or rolled paper will fit in this container. (maximum length 6 inches, minimum diameter 4 inches) Has a weight capacity of 12L.
Maximize your bathroom space.

Made of environment-friendly ABS plastic. It is not only sturdy and lightweight but also waterproof and easy to clean. Simple yet beautiful decoration saves space in the bathroom. Install this on various surfaces such as metal board, porcelain tile, glazed tile, ceramic tile.
Product Specification:
Material: ABS
Product Size: 16.8 cm x 13.8 cm
Color: Gray, Black, Pink
Package includes:
1 x Waterproof Bathroom Storage Rack