---
Easy and Quick Way To Test Water Quality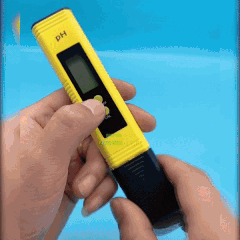 Are you looking for a way to maintain and improve your Hydroponic systems? Introducing our Water pH Tester Pen, which allows you to measure and monitor water pH easily. The balance of acid-forming and alkaline-forming nutrients can influence root development, microbial activity, fungi, symbiotic nitrogen fixation by legumes, and the availability of nutrients.  Simply use our Water pH Tester Pen to ensure suitable water quality for your Hydroponic systems.
FEATURES
Fast and Accurate Results: This Water pH Tester Pen provides pH reading in seconds, with a range between pH 0 ~14 and an accuracy of ±0.1 pH, and it is factory pre-calibrated. Plus, you will never have to work with the color charts or test strips anymore.
Portable and Lightweight: Our Water pH Tester Pen is pocket-sized which allows you to bring it anywhere and measure water quality anytime. 
Easy to Use: Simply remove the protective cap and immerse the tester pen's electrode into the testing solution and measure.
Automatic Temperature Calibration: No worry about the effect of temperature change on pH, as this pH tester pen has built-in (ATC) automatic temperature compensation to ensure you get the accurate reading in different liquid temperature 32°F - 122°F (0°C - 50°C).
Wide Applications: Our Water pH Tester Pen can be used in a wide range of applications such as water farming, swimming pool, tap water, aquarium maintenance, hydroponic nutrient, home brewing, laboratory testing, food, wine, and much more!
How to use
Remove protection cap and r

inse the electrode with distilled water and dry it with filter paper.

Turn on the meter by pressing on "ON/OFF" button and immerse the electrode into the test solution.

Stir gently and wait for the reading to stabilize. 

After use, clean the electrode with water and turn off the meter by pressing on "ON/OFF" button.
Always place on the protection cap after use. 
Product Specification:

Measuring Range: pH 0.00-14.00

Accuracy: ±0.1 pH

Operating Temperature: 32°F - 122°F (0°C - 50°C)

Size: Approx. 153mm x 30mm x 16mm

Power Supply: 2 x 1.5V Batteries (Not included) 

Package includes: 
1 x Water pH Tester Pen