---
Park Perfectly with Ease Everytime! 

No need to worry about damaging your car or your garage when parking in a tight garage. Our Universal Garage Laser Line Parking Assist will guide you to park in the exact same spot everytime.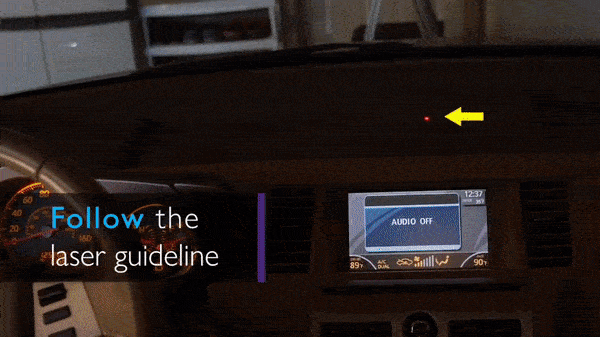 This laser guide is equipped with 2 lasers beams which can accommodate up to 2 cars, perfect for two-car garages. The dual laser shine onto your vehicles and offer precision guidance everytime. It can detect motion up to 10 meters away, so it will be automatically activated when vehicles enter the garage. It also automatically shut off after 30seconds of idle motion. 
No additional wiring required, simply install the device in your garage and plug in to the power outlet. 
Features:
Wide Angle Dual Lasers: Perfect for one-car or two-car garages. The angle of the 2 lasers can be widened up to 95 degrees, which can safely and efficiently assist 2 cars. This feature helps to navigate tight garages with ease. 
Motion Activated: The laser guide can detect movements up to 10meters away. It automatically turns on when your vehicle enter the garage and shutdown after 30 seconds of idle motion. 
 Convenience: The laser guide conveniently guides you to park your car with ease. Drive forward into your garage until the laser beam align with your vehicle. This allows you to park perfectly on the same spot everytime. 
Individual Laser Control. The device provides individual laser control on each of the 2 lasers. Just flip the button on the side of the unit to switch between 2 lasers. Each laser has a 360-degree adjustment to ensure the laser will hit the exact mark everytime, no matter the size of the garage.  

Easy installation: The laser guide requires no wiring. Simply installed it in your garage and plug in to the nearest power outlet.