---
Not everyone has a leisure time to cover every nook and cranny of the car to get the dirt. Undercarriage Power Cleaner is the fastest and easiest way to get the dirtiest part of your car thoroughly cleaned. It's time-saving, cost-efficient and user friendly. Just turn it on, slide it under and let the power cleaner do the work.
Designed to clean areas of your car that an ordinary rug or hose won't reach.
Cleaning the part of your car will prevent rusting and damages from corrosion.
Dirt buildup can also cause overheating, so removing them from time to time is important!
Easily assemble and connect it to your PSI Water Pressure machine.
Built with aluminum to withstand water stain and rust.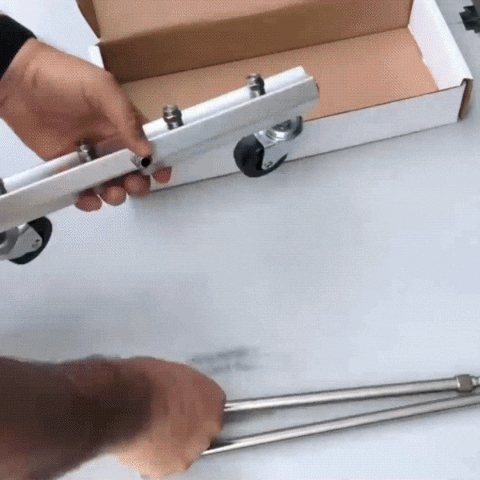 FAQs
Question:

 

Can it be connected to the water supply directly?
Answer:

 

This nozzle needs to be connected to a power washer. It has a 1/4-inch male plug, easy to connect and release to the pressure washer.
Question:

 

Is there a suggested water pressure or PSI?
Answer:

 

The nozzle works from 800 PSI to 4000 PSI. It is recommended to use at 2500 PSI or higher to get the best performance of the spray nozzle.
Question:

 

What's the difference between Undercarriage and Road Cleaner?
Answer:

 

Undercarriage cleaner has a nozzle that faces and sprays water upward and is mainly used and effective in cleaning underneath your vehicle. The Road Cleaner has a nozzle that faces and sprays water downward and is effective in cleaning and removing mud and grimes on the road, pathway, or driveway.
Instructions:
Connect the Undercarriage Cleaner to the nozzle rod via ¼" quick connector
Connect the nozzle rod to the extension rod (if needed)
Connect the Undercarriage Cleaner with the nozzle rod to your existing power washer
Turn On your power washer
Slide back and forth to your car's undercarriage

Tip: Repeat cleaning Step #5 until the water that falls down is clear of dirt or grime
Product Specifications
Material: Stainless Steel Aluminum Alloy
Operating Temperature: 10 - 60 degrees
Required Connector Size: 1/4 in.
Max Working Pressure: 30Mpa / 400PSI
Product InclusionsUndercarriage Cleaner
1 x Spray Nozzle Upward
2 x Extension Rods