---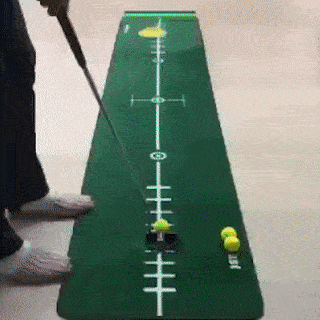 Experience a putting game improvement like no other! Practice really makes a difference. But there are really times you'll just get bored of the usual putting green drills. So get your game on and train with this Indoor Golf Putting Mat to make your practice hours more fun than ever!

FEATURES
Tons of Drills to Try: Our Golf Putting Training Mats come with various drills and putting zones to make practice more fun and entertaining. Surely you'll never get bored of putting from one point to another.
Ruler Type: Trajectory lines and angled marks aid your ball path.
Putting Green: Practice your puts on a straight line for proper ball and posture alignment.
Children's Edition: Train your future PGA pro! Teach your kids proper putting with this mat.
Movable Bottom Slope Pads: Freely move the detachable slopes where you want them to be. It is applicable for all training mats.
Edge Slope Bottom: Simulates a realistic putting green with an upslope cushion on the end.
Overall Putting Training Aid: Great tool for practicing your pace control and setup position. Straight and angled marks help improve your ball positioning. Achieve a steady stroke and an ideal tempo on every put. Create a consistent setup by instilling muscle memory through training with this mat.
Little to No Maintenance: Non-skid backing rolls out flat to prevent the mat from slipping while training. Compact size allows you to carry it and train anywhere. Fabric lays flat unlike other putting mats that you still need to brush after use. Do repetitive practices with little to no maintenance.
Solo Train or Play with Friends: Enjoy endless fun by yourself or invite your golfer friends over! These mats are perfect for all skill levels. Experiment and try different mini games with these various mats. Spend hours of laughter while honing your putting skills!
Technical Specifications:
Material: TPR, Polyester, EVA Foam Slope Pads
Ruler Type Size: 300cm x 50cm
Putting Green Size: 300cm x 50cm
Children's Edition Size: 297cm x 51cm
Putting Green + Movable Bottom Slope

Putting Green Size: 

300cm x 50cm

Movable Slope Pad Size: 50cm x 15cm
Slope Pad Height: 15mm
Edge Slope Bottom Thickness: 4cm
Package Included:
1 x Indoor golf putting mat