---
Take high-quality photos of your products
Take good catalog-style photos of your products without any hassle. Portable Photography Studio Box features a customized integrated light-bar design with 20 pcs high-quality SMD LED beads that provide enough brightness for shooting. Create brighter and softer lights, help leave your photos looking more natural and with great texture. Sizing 22 x 23 x 24 cm, perfect for shooting small products such as toys, jewelry, watches, etc. 
HIGHLIGHT FEATURES
Create more natural-looking photos.

 

Portable Photography Studio Box features customized 20 pcs LED light beads. The mini-studio box allows you to adjust the light steadily without flickering or distortion, avoiding shadows and reflections. Take high-quality images with any camera  or phone without any hassle. 
Waterproof and Wrinkle-Free.

 

Made of Soft-light PVC material, lightweight, waterproof, dirt-proof, and not easy to wrinkle, use a wet cloth to clean it. The material also eliminates the reflection of light to enhance the quality of your photo. 
Portable and Foldable.

 

The portable studio box has a size of 22 x 23 x 24 cm which is suitable for shooting small objects such as jewelry, cosmetics, toys, watches, cakes, and other items. Perfect shooting tent kit for photographers, artists, retailers, and professionals.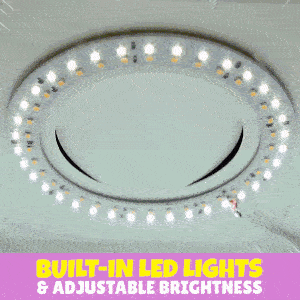 Assemble your own studio in just minutes.

 

Unfold this LED lightbox on any surface. No bracket or screws required. No more bringing the ring light near your subject. Powered by USB cable. Compact and convenient to use in many places without taking a lot of space.
Comes with Six Detachable Backgrounds.

 

Attached with 6 color detachable backgrounds: white, black, green, red, blue, yellow — which enables you to change the style and appearance of the scene to take super natural-looking photos.
Product Specification:
Material: PVC
Product Size: 22 x 23 x 24 cm
Product Weight: 500 g
Color: White, Black, Green, Red, Blue, Yellow
Package includes:
1 x Portable Photography Studio Box
6 x Detachable Backgrounds