---
Meet your gardening expectations on whatever soil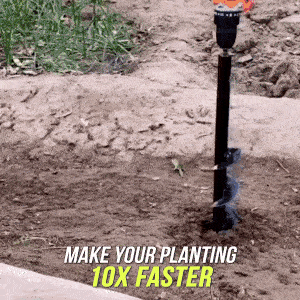 Prep your garden for bedding and planting 5 times faster. Increase efficiency in planting your flower plants and vegetables. Use 3-Set Non-Slip Spiral Hole Drill Digger to quickly loosen soil for bedding and drill holes for planting It's an auger drill bit widely used by professional landscapers. It allows you to efficiently dig through compacted garden beds, solid clay, coffee rock, shale soil and more. Simply an impressive tool to cultivate your garden.  
HIGHLIGHT FEATURES
Cultivate your garden 5x faster.

The 3-Set Non-Slip Spiral Hole Drill Digger helps you save time and energy in your garden work. This set of garden drills helps you dig holes faster and cultivate your plant beddings more loosely than any other tools. It's a great garden investment that will change the way you work with your plants.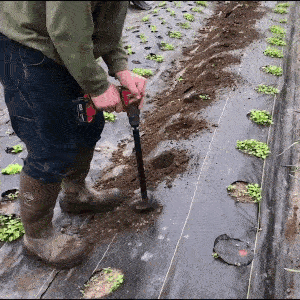 Complete planting in minutes.

No more hurting your wrist with trowels and shovels just digging holes for planting.  This set of auger drill bits makes a rapid hole digger and planter. Compatible with most power drill. Choose between 3 different drill bit lengths  - 290mm, 373mm, 425mm to drill your preferred hole size and depth. It's a huge time saver especially when planting bulbs. 
You will never garden the same way ever again.

Designed with a spiral body for fast and easy drilling. Made of high speed steel for sturdy and long lasting use. Dig through different garden beds made of compacted soil,  solid clay, coffee rock, shale soil and more. Perfect for cultivating soils for bulbs, seeds, potted plants, vegetables, bare root trees and mixed seeds.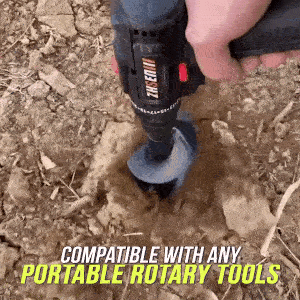 A must-have for gardening enthusiasts and professionals.

No more blisters making hole diggers. Change your way of gardening forever using this tool. This makes an ideal gift for people who are interested and love gardening and landscaping as a hobby or profession. 
Product Specification:
Material: High Speed Steel
Product Size: 
290mm, 373mm, 425mm
Color: black
Package Included:
3 x Auger Drill Bits