---
This Multi Angle Miter Shear Cutter is a must-have utility knife blade. A great and versatile tool for many applications, and repairs around your house. Convenient and works effectively on a number of materials like PVC, PE, Plastic Pipe, Electric wire and even softwood.
7 pre-set cutting angles. Multi-angle cutting and adjustable from 45, 60, 75, 90, 105 and 120° to 135 degrees. 4 line slot splicing, 6 line slot splicing, triangle strip stitching, and PVC edging strip stitching.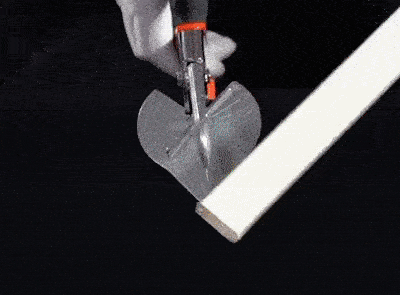 Non-slip grip handles. Rugged PVC soft-dipped handles for better grip and cutting control. Comfortable handle design to prevent fatigue of long term use.
Replaceable steel blade. Made from anti-rust SK5 alloy steel for a consistent and super sharp cutting blade. Heavy duty and replaceable blade ideal for cutting, stripping, and trunking.
Safety clasp and lock. Clasp close and open functions for easy and convenient use. Turnable lock and unlock safety feature.
SPECIFICATION
Color: Black and Orange
Material: SK5 metal steel, PVC dipped handle
Size: Length 8-5/8 in.
PACKAGE INCLUSION
1x Multi Angle Miter Shear Cutter