---
Shut the door problems? SOLVED!
HIGHLIGHT FEATURES
Spring operated corrosion-resistant stainless steel and commercial-grade aluminum alloy

Salt spray tested for 96 hours with perfect results

Lasts up to 500,000 open/close cycles
Easy to install, no door modifications required

Minimalistic and modern design

Universal mounting, suitable for all kinds of right and left opened doors
Got your hands full? Or do the kids always forget to close the door? With this Modern No-Slam Spring Door Closer, your doors will never be left wide open. Pet-free zones will remain pet-free and you won't ever have to keep asking your family to shut the door!
An inexpensive solution to an annoying problem, this is perfect for your garage, main door, and even the baby's room since it gently closes the doors -- you'll never hear a loud slam!
HOW TO INSTALL
1. Locate the regulation pin & pry the pin out with a screwdriver. Hold it against the bottom to prevent the springs from popping out.
2. Tension the spring using the included hexagonal key.
3. Insert the regulation pin in the appropriate hole in order to obtain the desired closing strength.
4. Lastly attached the Modern No-Slam Spring Door Closer to the door of your liking.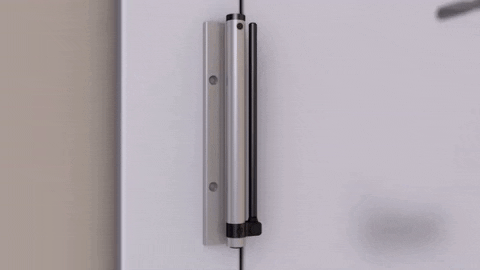 SPECIFICATION
Material: Stainless Steel & Aluminum Alloy
Closing door section:0-180 degree
Maximum weight of the installation door: 40KG
PACKAGE INCLUSION
1 x  Modern No-Slam Spring Door Closer
Tap BUY NOW to order your Modern No-Slam Spring Door Closer TODAY!