---
Promote the proper wrist hinge at the top of the backswing



Correct wrist movement for the perfect impact position. Golf Swing Trainer Wrist Correction is created to let your body and muscle remember the correct swing position for a perfect impact. It reinforces the power of your swing by enhancing your swing motion. Made with PU, Velcro, and Fiber Sheet. The 16 x 28 cm wrist brace fits perfectly inside your bag, bring it anywhere you want to train.

HIGHLIGHT FEATURES

Reduce the chances of a wrist injury.

Golf Swing Trainer Wrist Corrector features a built-in rest for your wrist. It helps you avoid excessive movement to protect your wrist ligament. It inhibits excessive wrist bending throughout the swing.
Adjustable Loop and Hook Design.

It fits any size of the player. The 16 x 28 cm trainer is designed with an adjustable loop and hook design to give you a comfortable fit when training. No more worrying about the trainer being too tight or too loose.
No more sweaty fabric.

The trainer features a moisture-absorbing fabric. It ensures comfort when you wear it even in the long hours of training.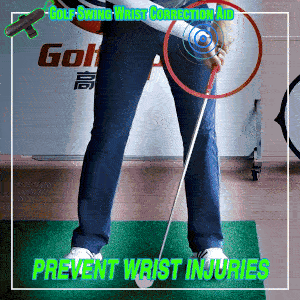 A must-have for every golf player.

The trainer aids the golfer in correcting wrist mobility and avoiding excessive wrist bending during swinging. This golf swing wrist brace will help you develop muscle memory and rapidly understand the ideal swing. Designed for golfers of all skill levels. 
Product Specification:


Material: PU, Velcro, and Fiber Sheet
Product Size: 16 x 28 cm
Product Weight: 28 g
Color: Black
Package includes:
1 x Golf Swing Trainer Wrist Corrector