---
Your cat is going to flip!
This new floppy fish toy flips and flops his tail as a real fish would, activating your cat's natural instinct to catch wild fish. Let your cat live out their dream of catching a fish! 
Every time your feline touches our Flopping Fish, the built-in motion sensor kicks into action and this cat teaser moves in a wiggling way, intriguing your cat to play and rustle with it. This smart Flopping Fish cat toy prompts sporadic movements and stimulates cat hunting instincts, keeping your cat physically fit and mentally active.
Product Features:
Easily Attract Cat's Attention. The realistic moving fish toy looks like a real fish . an eye-catcher for cats. It keeps your kitty on her paws and engaged in real time, alleviate boredom and loneliness when you are away from home. The moving cat fish are a great way to help get your cat excited for playtime by stimulating their natural hunter instincts.
Motion-based Sensor. The Flopping Fish will adjust its flopping slower or faster according to the motion around it. If it detects that its being played with, it'll flop faster. If it detects no motion, it'll slow down and eventually stop. Saving energy for a more enjoyable play time!
Infused Cat-nips Pouch. Flopping Fish comes with a pocket for you to store your cat-nips and circulate the taste of catnip so that you cat will get attracted to it. Most cats can get excited and happy at the smell of cat-nips. Cat-nips could relieve your kitty of depression and stress.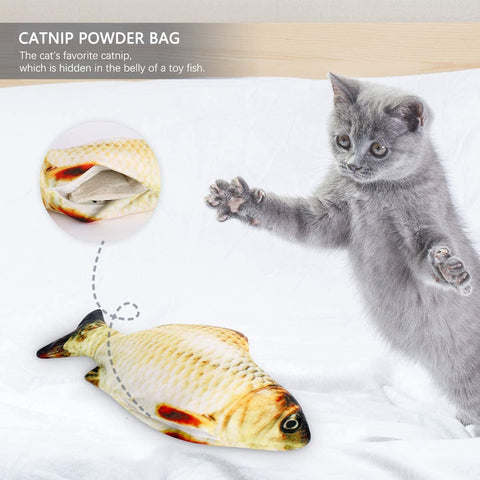 Safe, Durable & Washable.  Flopping Fish is made of durable cotton plush material which is bite resistant, safe and non-toxic for your kitten. If Floppy Fish turned dirty and requires a wash, simply

 take out the catnip bag and Electric device . then you can easily clean it by hand or your washing machine.

USB Rechargeable.

The Flopping Fish comes with a USB charger, and a built in battery that lasts for days after a full charge. This would be enough time to entertain your cat and relieve the stress throughout the day.

 
Package Includes:
1 x Flopping Fish Interactive Toy
1 x USB cable