---
 Provide the acid-basic value within 0.01 high accuracy
Ensure that your drinking water is pure and safe to drink without any hassle. Digital PH Tester Meter detects the pH value of the liquid. It has a temperature correction algorithm to reduce detection error. Calculate the pH of the sample at any temperature between 0°C and 80°C (32°F and 176°F). Great for all home and laboratory TDS & pH testing applications including aquariums, swimming pools
HIGHLIGHT FEATURES
Auto Calibration.

Digital PH Tester Meter contains an auto temperature compensation mechanism that adjusts to the temperature and quality of the water to provide pH readings quickly and precisely. You can also use Buffer Powder to calibrate the tester with a single touch button.
Make Sure Your Drinking Water Is Pure.

Healthy drinking water has a PH value of between 6.5 and 8.5. The PH meter detects the pH of your drinking water at any time, allowing you to drink safe water. No more heavy toxic chemicals due to higher pH levels!
Temperature Compensation.

There's no need to worry about the temperature of the testing liquid because the ph meter has built-in automatic temperature compensation, allowing it to reliably detect the pH value of the sample at any temperature between 0°C and 80°C (32°F and 176°F).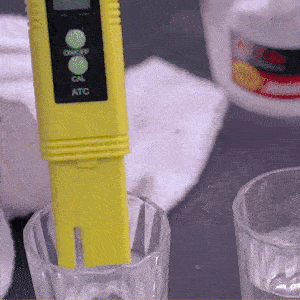 Quick and Accurate Results.

The tester features a sensitive electrode sensor to read accurate pH levels. Display measurements from 0-99990 ppm quickly, with different backlighting to indicate whether the water is drinkable. 
Compact and Portable.

Sizing 31 x 15 x 154mm, this will fit perfectly into your bag or pocket. Bring this anywhere with you. Make sure wherever you go your drinking water is pure. The tool also allows you to measure your aquarium, pool, pond in a garden. 
Product Specification:
Material: PP
Product Size: 31 x 15 x 154mm
Product Weight: 106 g
Color: Yellow + Black
Package includes:
1 x Digital PH Tester Meter