---
Get an accurate butt welding like an expert!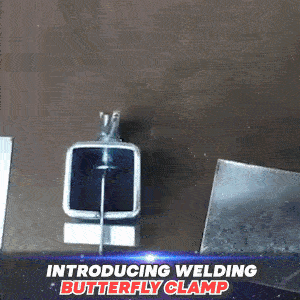 Struggling on being more precise on securing your panels? Our Butt Welding Clamps make it easier for you to position flat or curved panels for accurate butt welds. These clamps work like miniature butt-weld clamps that align panels edge-to-edge and surface-to-surface, leaving an ideal 0.040" gap for full weld penetration. Clamp the sections together, tack-weld, and remove the clamps for final welding.
HIGHLIGHT FEATURES
Ensures a secure hold on your panels.

Use these Butt Welding Clamps to pinch sheet metal panels level to each other; While these metal clamps hold panels edge to edge with a 1mm gap, you can quickly weld the sheets together
Holds panels edge to edge.

This helps loosen the winged nut from the alignment screw then wedge two panels across from each other between the square body and the clamp block. Tighten the winged nut to ensure a secure hold. Use all 16 clamps for larger projects, then joint weld between them. 
Guarantees a long-lasting use.

This set consists of four galvanized steel clamps that are engineered to be rustproof and heat-resistant. This makes them suitable for a wide range of welding applications, from butt welding to spot welding to edge-to-edge plate welding. You'll be using these clamps for a long time.
Product Specification:

Material: Tool Steel
Product Size: 5 x 2.5 cm
Product Weight: 300g
Color: Silver

Package includes: 

4 pcs x Butt Welding Clamps