---
Provide a strong, long-lasting, weatherproof solution to your ripped screens
Ripped window screens? Fix it within a minute with Adhesive Screen Mesh Tape. Save money on screen repairs by fixing them yourself. This is easy with this self-stick, nylon mesh tape that adheres easily to any damaged screen. Made to be highly durable, this guarantees long-lasting results. 
HIGHLIGHT FEATURES
Made of Premium Nylon.

 

Adhesive Screen Mesh Tape is made of environmentally-friendly nylon. With a length of 200 cm per roll, you can cover and patch window and door screens. This will stay on the surface of your door screen or window screen for a long time because this is specially designed for the screen door patch performance.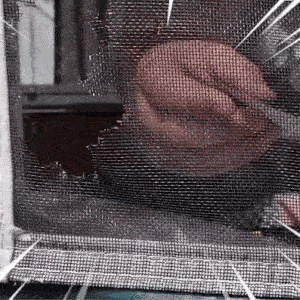 Hassle-free Installation.

 

Fix your screens within a minute. No tool needed! Clear the area you want to cover. And just cut and place whatever the size you want to repair the tears and holes in your screen. 
Save your money and energy.

 

No need to spend tons of money on buying a replacement for your screen. Save the money that you will pay for a professional fixer and do it on your own. 
Repair any torn or ripped screens.

 

Use this patch or tape to repair holes on smooth, textured, curved or uneven surfaces. The self-adhesive, flexible patch can be easily trimmed and bent for your needs. Repair a wide variety of surfaces including: drywall, plaster and stucco. 
How to use:
Product Specification:
Material: Nylon
Product Size: 
Tape: 5 cm x 200 cm (25g)
Patch: 10 x 10 cm (10g)
Color: Silver
Package includes:
1 x Adhesive Screen Mesh Tape (Patch/Tape)