---
Designed for DIY Woodworking Enthusiasts
Are you having a struggle with spending a lot of time trying to find the accurate angle but still can not do it right? Having trouble matching corners? 90-Degree L-Shaped Fixture Tool comes to help you solve your problem. This can work with a clamping tool to check and position the corner for wood board jointing and gluing. It can be used for woodworking and welding at the right angle. A practical tool to make your woodworking project easier.
HIGHLIGHT FEATURES
Designed for long-lasting use.

The 90-Degree L-Shaped Fixture Tool is made of high-quality Aluminum Alloy (6061-T6) for maximum durability and usability. This made from a solid block of aluminum, so it'll last a long time. The tool is treatment-anodized which makes the surface more resistant to corrosion.
Connect more weights.

This tool is made to connect joints square and stable at an exact 90-degree angle. It has the ability to form a right-angle corner. Clamping boxes, drawers, shelves, frames, furniture cabinets, and for outside corners is how this is professionally used to install and DIY. For squaring up shelf cabinets, this is perfect.
Beveled Edges.

This tool features beveled edges to avoid damaging the delicate cutting edges. To use it properly, place the square on the corner of the two raw materials that need to be flattened and clamp together. No more damaged woodworks!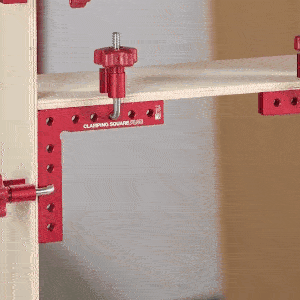 Adjustable Fixing Blocks.

The clamps are suitable for wood board thicknesses ranging from 7/16" to 1-9/16", and the 90° angle provides strong balance for easy use. You can adjust it according to your need. 
Product Specification:
Material: Aluminum Alloy
Product Size: 160 x 160 mm, 140 x 140 mm
Product Weight: 940g
Color: Red
Package includes
2 x 90-Degree L-Shaped Fixture Tool