---
Make food preparation easier and faster!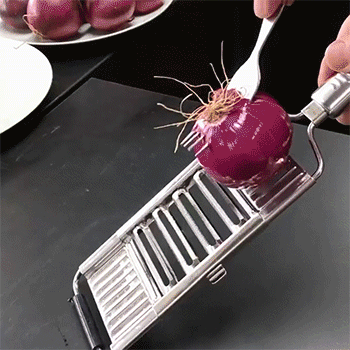 Taking too much time in cutting vegetables? Our Multipurpose Vegetable Slicer is the must-addition to your kitchen. This is designed with 3 interchangeable blades for slicing, cheese grating and julienne grating. This vegetable slicer grater also allows you to cut eight slices in just one sweeping action. Great for slicing vegetables, making salads, potato chips for kids. Prepare your meal 2x faster than usual!

Highlight Features:
Slice your vegetables evenly.

 

With its 3 interchangeable blades, this Multipurpose Vegetable Slicer allows you to slice and cut your vegetables evenly and uniformly. This can quickly and easily cut vegetables and fruits into the same size slices you prefer. 
Cut 8 slices in just one swipe. 

This k

itchen slicer grater consists of 8 super sharp, precise, stainless steel blades, which

allows you to slice 8 pieces in single swiping motion, 

makes it the fastest and most accurate slicer in the world. This is created to perfectly make tasks easier and quicker in your kitchen.
Grate your veggies without any hassle.

 

Made from food-grade steel, this slicer is polished to its best condition so that you never have to worry about breakage and rust. The heavy and sturdy stainless steel frame is more reliable than an ordinary plastic vegetable slicer. Which is corrosion-resistant and durable, ensuring your food has a pure taste.
Get perfect slices every single time. Make your food especially appealing with perfect cuts and slices. Proportioned and identical slides every time. It makes meal prepping more fun.
Multifunction and practical. No need for multiple tools to achieve different slices and cuts. You only need this multipurpose vegetable slicer for your cutting and shredding needs. Work on your meal preps efficiently and neatly.
Product Specification:
Material: Stainless Steel
Product Size: 30x7cm
Product Weight: 1.3 pounds
Package Includes:

1 x Slicer Frame
3 x Blades
1 x Safety Holder